14 Mother's Day Craft Ideas for Kids: Homemade Mother's Day Gift Ideas
By: Jaclyn Holtzman, Editor, AllFreeKidsCrafts.com

Updated April 01, 2016
Choose from the best kids' crafts for Mother's Day in this free eBook!
Every year when the sun starts shining, the flowers begin to bloom, and school starts coming to a close, you know that some very exciting events are approaching. There's Easter, April Fools' Day, Earth Day, and summer camp, but most importantly, there's Mother's Day. This lovely holiday on the second Sunday in May is a kid favorite because it's an entire day devoted to the most special women in your life. The sooner you find the joy in giving, the happier you'll be, so start by giving to the female figures who give to you.


It's so exciting when you figure out the perfect gift to give Mom, Grandma, or Auntie Sue, and so AllFreeKidsCrafts is here to help you find that gift that will make her smile. As much as Mom would love the thought behind a store-bought card, nothing would mean more than a homemade Mother's Day gift. The best Mother's Day craft ideas for kids are unique, heartfelt, and made specifically for the special recipient. When you make Grandma a gift, no one else in the world has a homemade Mother's Day gift quite like that one. Do you know how important that makes Grandma feel? For the women who put a smile on your face every day, we have gathered 14 of the absolute best Mother's Day craft ideas a Mom could ever hope for. In this free eBook, you'll find cards that will melt Mom's heart, easy crafts that the littlest gift givers can make for their favorite granny, flowers that will last as long as your love for your aunt, and recycled craft ideas that don't require even a penny of your allowance. No matter what you make for Mom, as long as it's made with love, she's sure to treasure it forever.

Table of Contents
Hello Crafty Families,
The sun is peeking out from behind the clouds slightly more often than it had been which means that slowly but surely spring is on its way. With spring come green grass, fresh flowers, and most importantly, a day to celebrate the most significant women in our lives. Though it's called Mother's Day, the second Sunday in May is a 24-hour period to honor any special lady who has contributed to raising you.

Dads, grandpas, and uncles, this is where you come in. While Mom can help make homemade gifts for grandmas and aunts, it's your job to oversee that your crafting kiddos stay on track to making the perfect Mother's Day gifts. Luckily for you, AllFreeKidsCrafts has gathered 14 of the absolute best presents Mom could ever hope for. This may be a day for the women, but you can take this opportunity to spend a lovely afternoon crafting with your favorite little artist making memories as you make gifts. The process is just as meaningful as the result, so take advantage and really make some wonderful moments.

The crafty kids in your life will have an amazing time creating homemade cards and gifts that will melt Mom's heart. The tutorials in this eBook are varied to ensure that there will be the perfect project for everyone. Use paint, crayons, recycled goods, beads, paper, and more to make a budget-friendly, homemade work of art. Enjoy these great kids' arts and crafts projects that'll help you celebrate Mother's Day in the most heartfelt and crafty way.
Sincerely,
The Editors of AllFreeKidsCrafts.com
Mother's Day Cards to Make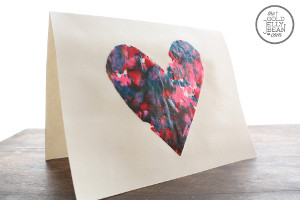 Make Mama smile with a card that will melt her heart. Let her know how you feel and how much you appreciate everything that she does for you with a sweet little note. Write a poem for Mother's Day, thank her for everything, or just simply say, "I love you," to make the special lady in your life happier than ever before. Think of all of the little notes that Grandma leaves you that make you smile, and write one just like that back to her. These heartfelt cards are even more meaningful when the outside is handmade. Use your old crayons to melt a heart that will wow Auntie. She will forever wonder how you made the card look so beautiful.

This funky card is really easy and inexpensive to make, and it will make a huge impression on the recipient. If you don't want to make a heart, make another shape that means something to the lovely woman who deserves this card and so much more. If you can only make Mom one thing for her special day, create a card that will drop her jaw and put happy tears in her eyes. For the woman who has never missed a soccer game, make the most special gift that you can.
Easy Kids' Crafts for Mother's Day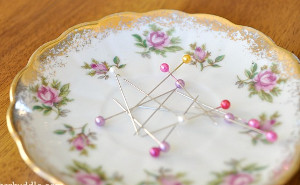 When you're little, you don't have to make the most challenging craft possible to make Mother's Day special. Homemade Mother's Day gift ideas can be as simple as this magnetic pin plate. Though it's easy to make, Mom is sure to absolutely love this Mother's Day craft. As long as you put thought into your gift, Grandma doesn't care if it took you three minutes or three hours. She just cares that you thought of her and picked something that you knew she'd love. When Mother's Day craft ideas for kids are easy, you can make them all on your own.

Imagine the look on your Aunt's face when you tell her that no one helped you even a little bit on the gift that you made for her. Your self-made Mother's Day craft will mean even more when you reveal that you completed it all on your own. This magnetic pin plate requires only three materials and is a cinch. However, for the sew-happy Mom or Grandma, this is the best gift that she could possibly imagine. She won't have to worry about sitting on a pin or losing her whole stash ever again thanks to the perfect present.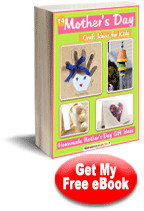 Download your free copy of 14 Mother's Day Craft Ideas for Kids: Homemade Mother's Day Gift Ideas!
Flower Craft Ideas for Children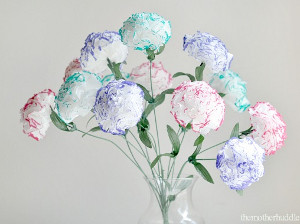 Mother's Day takes place in the beautiful month of May when it's warm, the grass is fresh, and the flowers are fragrant. Since there are beautiful blossoms abound that will stick around for many months, Mom doesn't need a vase of flowers that will wilt in a few days. You are better off leaving the blooming beauties where they belong and making your favorite female some flower crafts that are sure to impress. Flower craft ideas for children are some of the best homemade Mother's Day gifts that little ones can make. Craft flowers can be kept for years to come and are sure to make Mom smile for longer than that.

The beautiful Tenderhearted Tissue Flowers pictured look complicated, but they're actually incredibly simple to make. They look real and incredible, but they'll never fade. Spritz a bit of the Homemade Perfume (for which there is a tutorial in this wonderful free eBook) on these brilliant blossoms and they'll have everything that fresh flowers have and more. Pick a color scheme that you know Grandma will love, and you'll find that this lovely homemade Mother's Day gift never leaves the dining room table.
Recycled Craft Ideas for Mother's Day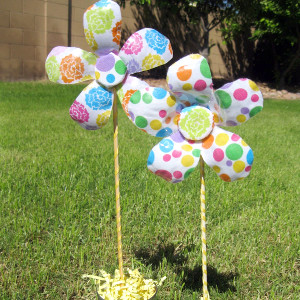 Mother's Day isn't just for human mothers. Mother Earth likes to celebrate too! Since spring is all about our beautiful Earth, how about you help ensure another year of beauty with recycled craft ideas for Mother's Day? Mom would be so proud to know that your present to her is good for the environment. When you make the Water Bottle Flower Power craft, you are saving the world from a few more plastic bottles. You may think that's not much, but every single bottle matters. It's amazing to think that your precious homemade Mother's Day gift that Mom is sure to love will help the Earth breathe a little more easily.

You should feel extra great about making Mom's Day and for making Mother Earth's day too. Besides, the recycled craft ideas for Mother's Day in this free eBook are absolutely adorable. Some recycled crafts are obviously made from recycled materials. These not only look fresh, but they also look amazing. You may say to Mom, "How come there's no Kid's Day," but deep down you know that Mom dedicates every minute of her life to you. So, take the 24 hours in Mother's Day to dedicate every minute to showing the important women in your life how special they are.

Download your free copy of 14 Mother's Day Craft Ideas for Kids: Homemade Mother's Day Gift Ideas!
If you are having trouble downloading our free eBooks, visit our FAQ page here: How to Download Our eBooks.
If you enjoyed this eBook, you won't want to miss any of our other downloadable kids' craft collections. You can browse our entire library of free eBooks here.
This 14 Mother's Day Craft Ideas for Kids: Homemade Mother's Day Gift Ideas! eBook is absolutely free! If you decide that you love the eBook and would like more free kids' craft projects, don't forget to sign up for our free e-mail newsletter "Crafty Kid Creations" to become part of our ever-growing kids' craft community. By subscribing to the newsletter, you will receive:
Weekly e-mails full of free kids' craft projects and inspiration, learning activities, collection pages, and more.
FREE new tutorials and projects made available to you throughout the year.
Access to our free project

library

full of hundreds of free kids' craft projects and ideas.
The opportunity to share ideas and help others in the kids' craft community.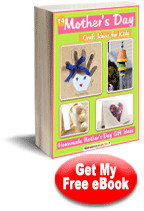 Download your free copy of 14 Mother's Day Craft Ideas for Kids: Homemade Mother's Day Gift Ideas!
Tags / Related Topics
Your Recently Viewed Projects
Images from other crafters

Love these projects? Get MORE delivered to your Inbox – FREE Click Here!