Christmas Crafts for Kids: 18 Homemade Christmas Ornaments free eBook
By: Emily Timmons, Editor, AllFreeKidsCrafts.com
Christmas Crafts for Kids: 18 Homemade Christmas Ornaments free eBook
Rock around the Christmas tree with these DIY ornaments!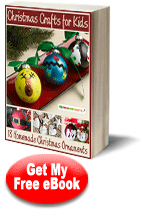 It's beginning to look a lot like Christmas, and it's all thanks to this compilation of Christmas crafts for kids. Each family's collection of ornaments is a unique scrapbook of memories, from vacation mementos to cultural traditions to humorous gifts from friends. Ornaments serve as miniature snapshots of holidays past where you can trace how your family has grown, and it's for that reason that the homemade Christmas ornaments in your family's collection are probably the ones you cherish the most.

This charming compilation of homemade Christmas ornaments contains Christmas projects for kids of all ages, so everyone in your family can create a little bit of magic for your tree. After all, the best way to spend time together during the holidays is to create together! By the time you reach the end of Christmas Crafts for Kids: 18 Homemade Christmas Ornaments, your tree will be totally trimmed with ornaments you'll want to hang up year after year.

These kids' Christmas crafts are simple yet sophisticated, and they're incredibly fun to make. You always want to make sure your Christmas tree is the best it can be, so use this eBook as a resource for all your Christmas tree decorating ideas. From custom Christmas baubles to ornaments you can decorate with your handprints, these Christmas crafts for kids will make your Christmas a merry one.

Don't Miss Our Other Free eBooks!
If you enjoyed this eBook, you wo'nt want to miss any of our other downloadable kids' craft collections. You can browse our entire library of free eBooks here.

Santa will love checking out all of the cool decorations on your tree when he drops down your chimney on Christmas Eve! With Christmas Crafts for Kids: 18 Homemade Christmas Ornaments, you can turn all your favorite Christmas characters into amazing homemade Christmas ornaments. There's even an ornament that looks just like Santa's jolly belly! You can even turn your Christmas tree into a winter wonderland with the snowy kids' Christmas crafts in this eBook. With just a few simple materials and a little bit of Christmas spirit, your tree will be looking lovely for the holidays.

Seeing your handmade ornaments on your glowing Christmas tree will give you Christmas cheer for the whole holiday season. In fact, your home will be just like Santa's workshop at the North Pole when you start making these Christmas crafts for kids. You can even make the Santa's Little Helper Ornaments to fill your workshop with little Christmas elves!

The laughter and joy you'll share with your family while you craft together is the essence of the holidays, and this eBook will give you plenty of ornament craft ideas to keep you smiling. Everyone will find their new favorite ornament when they browse this collection of kids' Christmas crafts, and the memories you make together will inspire you to spend the rest of the holiday season finding new ways to connect and grow as a family.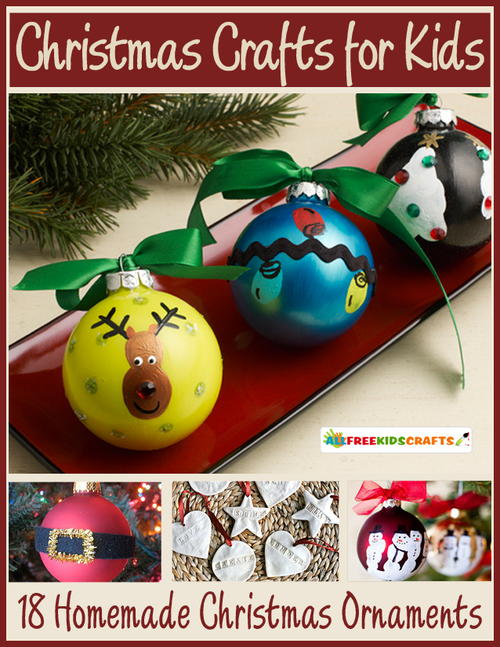 Christmas Crafts for Kids: 18 Homemade Christmas Ornaments
Table of Contents
Hello Festive Friends,
There's something impeccably magical about decorating a Christmas tree. Maybe it's the glowing Christmas lights reflecting onto glistening tinsel. Maybe it's reminiscing about old times while you listen to a warm, crackling fire accompany your favorite Christmas carols. Or maybe it's the simple act of coming together as a family to create something beautiful for everyone to enjoy during the holiday season. Christmas ornaments are perfect little keepsakes that bring a smile to your face every time you go to decorate your tree, and they're even better when they were made by your kids!

This free eBook is a collection of homemade Christmas ornaments that you'll be proud to display on your tree year after year. Your kids will love letting their creativity loose on these Christmas crafts, and you'll love having a snapshot of the holiday memories you created together. These projects are simple yet sophisticated, and they're incredibly fun to make! From custom baubles to ornaments they can decorate with their tiny prints, these Christmas crafts for kids will make your family's holiday merry and bright.
Happy crafting!
Emily, Editor of AllFreeKidsCrafts



Download your free copy of Christmas Crafts for Kids: 18 Homemade Christmas Ornaments!


Easy Christmas Ornaments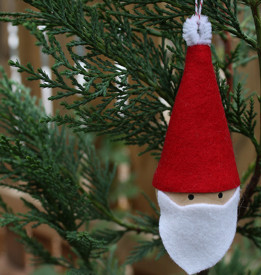 It's the simple things that make the holidays special, and that includes simple craft projects. If you love homemade Christmas ornaments that are simple yet stunning, these easy Christmas crafts for kids will have you feeling positively jolly. When guests come over and see your Christmas tree, they won't believe that their favorite ornaments were actually so simple to make! You can make several of these precious homemade Christmas ornaments in the time it would take to sing your favorite Christmas carol, so you can tackle tons of these holiday projects in just one night. These easy Christmas ornaments will make anyone smile, even Scrooge!

Recycled Christmas Ornaments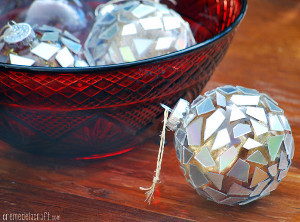 The holiday season is filled with hustle and bustle, from shopping for gifts to stringing festive Christmas lights along your rooftop. Relax a little; make recycled Christmas ornaments and save yourself an extra trip to the store. Recycled crafts for kids usually turn out to be the most charming kids' crafts, which means these homemade Christmas ornaments will be some of your best Christmas tree decorating ideas this year. Finding creative ways to reuse things around the house is always fun, but it's even more fun when you're making homemade Christmas ornaments. It's not just cardboard and plastic that you can recycle. You can recycle just about anything in your house, like buttons or old CDs, so it's time to scrounge the house for craft materials. When you've found everything you need, don't wait another second. Start creating these creative kids' Christmas crafts!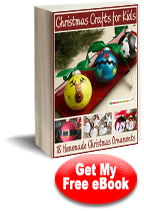 Download your free copy of Christmas Crafts for Kids: 18 Homemade Christmas Ornaments!



Preschool Christmas Crafts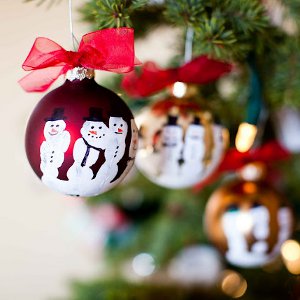 Christmas is for everyone; that means kids of any age. From your first Christmas onward, the holidays are special times worth remembering for the rest of your life. To make sure even the littlest family members get to be a part of the festivities, try making preschool Christmas crafts like these simple ornaments. These homemade Christmas ornaments are a great way for young kids to use their hands while they create, whether they roll their ornaments in glitter or paint their hands to create memorable Christmas baubles. Toddlers could easily try making these kids' Christmas crafts, too, so truly everyone in the family can create their own homemade Christmas ornaments. Don't hesitate to use your favorite colors to put your personality into each one of these Christmas crafts for kids!

Homemade Christmas Gifts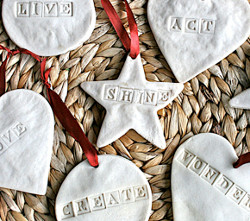 "Maybe Christmas, he thought, doesn't come from a store. Maybe Christmas . . . perhaps . . .means a little bit more!" The Grinch knows that Christmas is the season of giving, and that the best gift of all is something that comes from the heart. Store-bought presents can be very thoughtful, but making homemade Christmas gifts this year will show your loved ones just how much you care about them. Get into the giving season by making these homemade Christmas ornaments for your friends and family. They'll be so thrilled to receive a sentimental handmade gift from you, and chances are you'll see it hanging on their Christmas tree for years to come. These Christmas crafts for kids are easy to customize, so you could personalize each one of these homemade Christmas ornaments for the person receiving your gift. Each of these kids' Christmas crafts is easy and affordable, so you can make an ornament for everyone on your list.



Download your free copy of Christmas Crafts for Kids: 18 Homemade Christmas Ornaments!
If you are having trouble downloading our free eBooks, visit our FAQ page here: How to Download Our eBooks.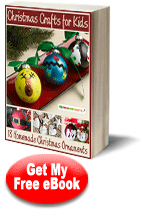 The Christmas Crafts for Kids: 18 Homemade Christmas Ornaments eBook is absolutely free! If you decide that you love the eBook and would like more free kids' craft projects, don't forget to sign up for our free e-mail newsletter "Crafty Kid Creations" to become part of our ever-growing kids' craft community. By subscribing to the newsletter, you will receive:
Weekly e-mails full of free kids' craft projects and inspiration, learning activities, collection pages, and more.
FREE new tutorials and projects made available to you throughout the year.
Access to our free project library full of hundreds of free kids' craft projects and ideas.
The opportunity to share ideas and help others in the kids' craft community.
We hope that Christmas Crafts for Kids: 18 Homemade Christmas Ornaments will fill your holiday dreams with glistening Christmas trees and merry memories. Use this collection of easy Christmas ornaments, preschool Christmas crafts, recylced Christmas ornaments, and homemade Christmas gifts to create the most heartwarming holiday season you've ever had. Put on your favorite holiday carols, start a crackling fire, and gather 'round to start crafting these marvelous homemade Christmas ornaments. From start to finish, from Santa to Rudolph, you'll find a new ornament to create and cherish.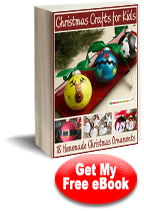 Download your free copy of Christmas Crafts for Kids: 18 Homemade Christmas Ornaments!
Tags / Related Topics
Your Recently Viewed Projects
Images from other crafters

Love these projects? Get MORE delivered to your Inbox – FREE Click Here!