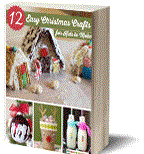 12 Easy Christmas Crafts for Kids to Make
Bonus: Get our newsletter & special offers for free. We will not share or sell your email address. View our Privacy Policy

Santa Claus is Comin' to Town: Proof of Santa Claus + More Christmas Fun for a Magical Holiday
Make this Christmas magical for the whole family with Christmas activities for kids and Santa Claus proof ideas!
By:
Elizabeth Jedrasek, Editor, AllFreeHolidayCrafts.com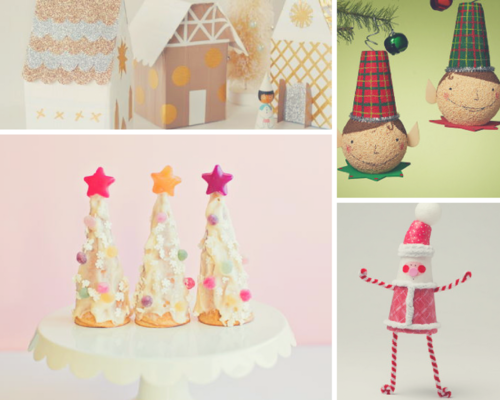 Deck the halls and make this Christmas special for your little ones with our guide Santa Claus is Comin' to Town: Proof of Santa Claus + More Christmas Fun for a Magical Holiday. Keep the holiday spirit alive long after your kids grow up by making this Christmas one to remember.

Thankfully, spreading Christmas cheer and creating a little Christmas magic is easily done, and your kids will look back on their childhood with a fondness for the holidays not even the Grinch could take away.

You'll find definite ways for proving Santa's visit and jolly good Christmas Eve ideas for making every Christmas one magical occasion!
A Brief History of Santa
The legend of Santa Claus began with Saint Nicholas, a bishop in Greece who became well-known for his gift-giving, particularly toward the end of the year. He was admired for his kindness and he became the focus of many stories that circulated far and wide. It was said that he gave away all his inherited wealth and traveled the countryside helping the poor. Saint Nicholas's popularity spread throughout Europe and beyond, and he even became known as the protector of children.

The story of Saint Nick made its debut in America when it was reported that Dutch families had gathered to honor his death in New York. An author by the name of Washington Irving popularized the legend with his book, "A History of New York," in which Saint Nicholas was portrayed as a cheerful and generous figure who dropped presents down chimneys as he flew over houses in a wagon.

Clement Clarke Moore then penned the poem most often referred to as "The Night Before Christmas," while cartoonist Thomas Nast drew a rendering of Santa Claus for Harper's Weekly during the Civil War. Both Moore and Nast are largely credited with creating the first image of Santa Claus resembling the one we know today. Finally, some of Coca-Cola's most famous advertisements featuring the jovial man in the red suit helped to establish Santa Claus as the prominent American figure of contemporary culture we know and love so well.
'Twas the Night Before ... Christmas Eve Ideas
Family pajama party - Let each of your kids open an early Christmas present filled with holiday pajama sets! This will get you and your little ones excited for bed on the most magical night of the year in a fun and festive way. You can even get matching pajama sets for the whole family to wear as you sip hot cocoa, watch Christmas movies, and read a special Christmas story. 
Story time - Speaking of stories, is there a more a more appropriate one to read on Christmas Eve than "The Night Before Christmas?" Cuddle up in your new cozy pajamas and get ready for bed with a classic tale that will have your kids dreaming of sugar plums and prancing reindeer hooves.
Holiday movie marathon - Host a Christmas movie viewing party before bed filled with classic Christmas movies such as Frosty the Snowman and Rudolph the Red Nosed Reindeer. Your kids will love seeing their favorite reindeer and friends, while you'll have a great time reminiscing on Christmases past with movies from your childhood.
Sing Christmas carols - Christmas music just has a certain way of getting everyone in the spirit of the holiday. You don't have to be a good singer for these songs, and you may even share some good laughs while singing your heart out. Pick from old and new Christmas music so everyone can join in!
Tour the lights - Christmas decorations and lights are so beautiful, it's hard not to feel cheery as you look at people's lovely light displays. You don't have to go far to see light displays when your own neighborhood probably has their very own unique light decorations. Bundle up and take a nighttime tour of your neighborhood's personal light show for a fun Christmas Eve activity!
Prepare some Christmas goodies - Break the rules and whip up some yummy Christmas cookies for Santa right before bed! Your kids will love helping to decorate and they'll love it even more when they get to leave fresh baked goods out for Santa to snack on!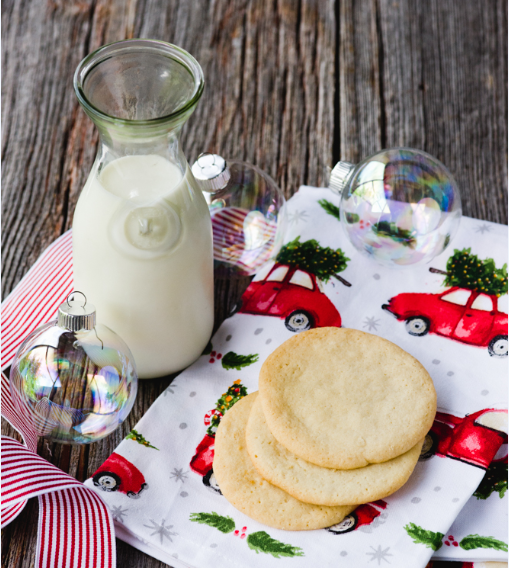 10 Ways to Show Proof of Santa Claus
It was probably easy keeping the magic alive when your kids were little, but as they get older - and wiser - you're going to need a little more creativity in proving Santa's existence. If you remember how amazing it felt as a kid to go to bed early Christmas Eve and wake up to tons of presents under the tree, you'll want your kids to feel the same way for as long as possible. Luckily, we've got 10 creative ways to prove Santa was here: 
Leave a thank you note - Write a personal message to your kids thanking them for the milk and cookies signed from Santa himself. Be sure to use paper your kids have never seen before and to disguise your handwriting or else your older kiddos might catch on. 
Snowy Footprints - Make some snowy footprints leading up to your Christmas tree using powdered sugar or glitter for a magical surprise! Kids will be absolutely delighted to find a few remnants of Santa's visit from the night before.
Leave something behind - Santa has tons of work to do, so there's no question he's moving quickly throught the night. And maybe, just maybe, he'll leave a little souvenir behind like jingle bells from his sleigh or even a mitten. Your kids will be shocked to discover an unexpected token of Santa's existence under the tree.
Reindeer evidence - Make reindeer food with your kids by mixing oats and glitter so the reindeer can see the tasty snack you left them! Your kids will love making a special treat for Santa's reindeer, and the fact that you're helping will prove you believe just as much as they do. If you can, try creating hoof prints or half-eaten carrots for your kids to find when they check to see if the reindeer enjoyed their treats. 
Fancy Gifts - Yes, even the way you wrap your children's gifts matters. Learn how to wrap a gift the right way so your presents come out pretty every time. Make the gifts from Santa truly stand out with elaborate gift wrapping paper (that your kids haven't seen before) along with big bows and elegant gift tags. Your kids will immediately see the difference between the way you wrap presents and how Santa does it! Check out these gorgeous gift wrap ideas for some inspiration.
Give an Unanticipated Gift - If your kids get exactly what they asked for, they might be able to see that mom and dad had been doing the gift-shopping. Your kids can still get everything they wanted, but leave something small under the tree like a snowglobe or an ornament that your kids wouldn't have expected as a meaningful keepsake all the way from the North Pole.
Jingle Bells - Find an old set of jingle bells and jingle them outside your child's room after everyone is in bed for the night. The next morning, they'll be so excited to tell you what they heard outside their bedroom window the night before!
Falling glitter - Lightly sprinkle glitter all over your front yard and backyard for the kids to discover in the morning. You can even sprinkle some on your front steps as well.
Elf on the Shelf - Get into the Elf on the Shelf tradition. Not only will your kids love finding Santa's little helper every morning, it will encourage them to be especially good during the month of December. Read more about the tradition here!
Track Santa! - Log on to NORAD's official Santa Tracker that will show your kids Santa's whereabouts all throughout December. It's so official, it even uses U.S. Military radar. 
How to Keep your Christmas Gifts Under Wraps

Christmas Activities for Kids
Have the most magical Christmas from start to finish with some fun games and activities for your kids to make and play all December long. Keeping the magic alive takes a little more work, but luckily these crafts will get your kids excited for the holidays so you can focus on making their Christmas morning one they'll be talking about for months!

DIY Ornaments
Christmas Treats
Christmas Crafts
What's your favorite Christmas morning tradition? Share with us in the comments below!
Free projects, giveaways, exclusive partner offers, and more straight to your inbox!
Tags / Related Topics
Your Recently Viewed Projects
Images from other crafters


Something worth saving?
SAVE your favorite projects
ADD personal reminder notes
QUICKLY reference your projects