100 Craft Ideas for Kids: Art Project Ideas, Recycled Crafts for Kids, and More Fun Crafts
From learning activities to animal crafts for kids, we've got 100 excellent projects for your child to enjoy.
By:
Emily Timmons, Editor, AllFreeKidsCrafts.com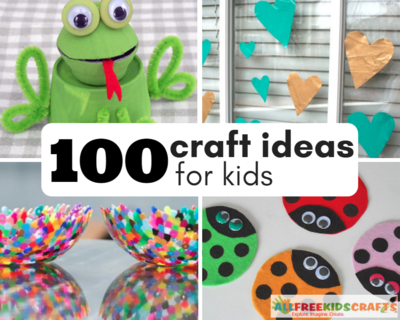 Has anyone ever told you that you have great taste in craft projects? Here at AllFreeKidsCrafts, we sure hope so! To celebrate our second year, we've collected all of your favorite kids' craft ideas into this list of 100 Craft Ideas for Kids: Art Project Ideas, Recycled Crafts for Kids, and More Fun Crafts, and we're incredibly impressed with the crafts you picked.

From butterfly crafts to science activities to homemade toys, the amazing projects on this list are ones you will want to share with everyone you know. Have a thrifty friend who loved recycled crafts for kids? We've got you covered. Looking for a way to teach kids how to get organized? Check. Craving an adorable animal craft for kids? We have what you need! You simply can't go wrong with any of these craft ideas for kids.

Get started with this awesome video on how to make a Popsicle Stick Boat!
Table of Contents
Animal Crafts for Kids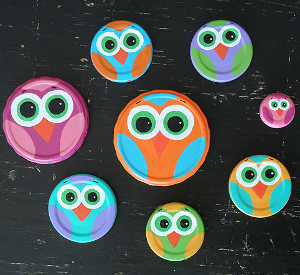 Butterflies were by far your favorite animal crafts for kids this year! These adorable craft ideas are all made with simple materials, and they're perfect for any time of the year. After you've found all six of the most popular butterfly crafts, make sure you try making the rest of these precious animal projects!

Kids love making animal crafts, especially when they get to make their favorite animal out of neat materials. There are penguin crafts for kids, pig crafts, farm animal crafts, and more! You will not have a problem finding an animal craft that your kids will love.
Art Projects for Kids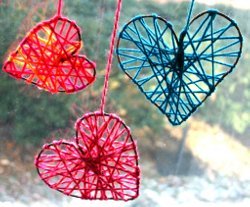 It's easy to see why these art project ideas made the list of top crafts for 2013. With bright colors and easy instructions, these art projects for kids are some of the most fun we've seen all year. In addition to the fun painting projects, you loved yarn crafts and melted bead projects. Let these top projects be your artistic inspiration for the year to come!
Kids are learning so much as they grow and see more of the world! With this collection, your children can experience hands-on science learning:
Why Learning Activities Are Important

While it can be tempting to assume that the best kind of education is one that is centered on lectures, memorization, and standardized testing, it's important to recognize the value of "playtime" in a learning environment as well. Here are four reasons why learning activities are important:

1. They allow little ones to use their hands as well as their minds, which gives an activity or lesson more meaning. Activities that involve experimentation and discussion get different parts of the brain in on the action – more than a standard lecture would.

2. Actions like coloring, scribbling, and using scissors are excellent for strengthening the brain's ability to multitask.

3. Children take on new feelings and develop empathy when they dress and act like different characters.

4. Kids learn to work as a team and use the same ingenuity that will later help them evolve into engineers when they build toys like model rockets together.

So don't just teach your children about the clouds – have them create their own swirling clouds! Don't just explain outer space to your little ones – help them make gooey substances that allow them to explore "intergalactic" textures! The possibilities are endless when you combine learning and play.
Sensory Activities and Learning Activities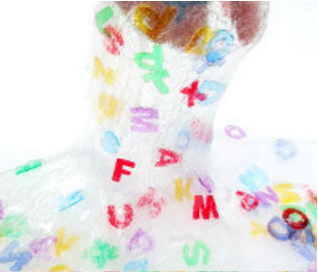 Hands on activities were a huge hit this year! If you tried these learning activities, you probably had a blast turning your kitchen into a laboratory by creating cool chemical reactions or playing with homemade play dough. From science activities to sensory activities, these are the educational opportunities you won't want to miss.
What Do Sensory Activities Do?

Child development expert Katie Stokes from Gift of Curiosity weighs in...

"You have probably heard about the five senses of touch, smell, sight, taste, and sound. Many people, however, are unaware that we have other important senses, including the vestibular sense (sense of balance) and the proprioceptive sense (sense of where each body part is in relation to the rest).

When a child is born, these senses are not fully developed. Instead, these senses develop over time as children engage with the world around them. This means that babies, toddlers, and preschoolers learn about the world by touching, tasting, smelling, seeing, hearing, and moving their bodies.

Early childhood educators and experts often talk about the importance of providing babies and young children with sensory play experiences. Sensory play is any playful activity that stimulates the senses.

Because young children's senses are still developing, sensory play builds neural pathways that grow the architecture of the brain. The brain growth that occurs through sensory play enhances children's senses, and their enhanced senses in turn make them better able to use those senses for learning.

For example, as children engage with various textures, they learn which ones are rough vs. smooth, which ones are hard vs. soft, and which ones are wet vs. dry. This awareness is a first step in learning to classify and sort objects."

You can learn more about sensory activities in Katie's article, Sensory play: What it's all about!
Christmas Crafts for Kids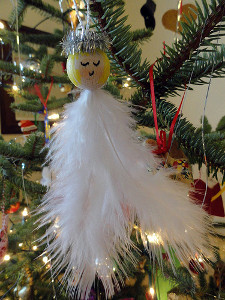 It's the most wonderful time of the year....so it's no wonder you loved kids' Christmas crafts so much this year! From homemade Christmas ornaments to beautiful holiday decorations, these easy Christmas crafts for kids are the best of the rest.

Celebrate the holidays with Christmas craft ideas that will have your kids super excited about Santa and all things red and green. There are tons of fun Christmas crafts that will have your little ones as jolly as St. Nick himself, and before you know it your house will be the best looking one on the block.
More Holiday Craft Ideas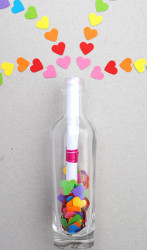 Christmas isn't the only holiday you love! Crafty Valentine's day ideas, kids' Easter crafts, and Halloween crafts for kids also made it onto your list of favorites. There's even a thrifty Mother's day craft idea, too! Make sure you save these kids' craft ideas; you're going to want to use them again in 2014!

Your little ones can get into the holiday spirit with all of these fun and exciting holiday crafts for kids. There are tons of crafts ranging from St. Patrick's Day crafts to Halloween crafts and kids' Christmas crafts. They will never have a single second to be bored with these fabulous craft ideas.
Recycled Art Projects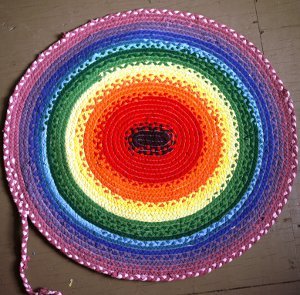 2013 was the year for being green, and it shows with your love for recycled art projects. From cool duct tape crafts to crafts with egg cartons, you've been thriftier this year than ever before! If you haven't already, you just have to try these scrap-tastic recycled crafts for kids.

Your little ones can learn how to make recycled crafts with unique and fun materials by using these amazing recycled craft ideas. From toilet paper roll crafts to egg carton crafts for kids to so much more, the thrifty craft ideas are endless!
Homemade Toys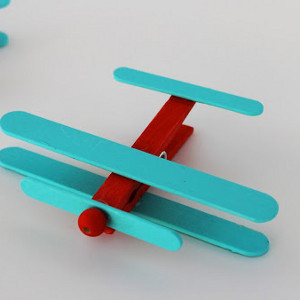 Making your own toys was another trend this year, and what a fun one at that! The DIY Rainbow Loom was at the top of the list of your favorite homemade toys, and with the Rainbow Loom bracelet boom of 2013, it's easy to see why! Don't miss the rest of the easy-to-make toys on this list; they're sure to become classics as the years go on.

If you want to save money on gifts for the kids, why not make a toy to give them? Toy making is surprisingly easy, and the kids will just love their new playthings.
Organizing Ideas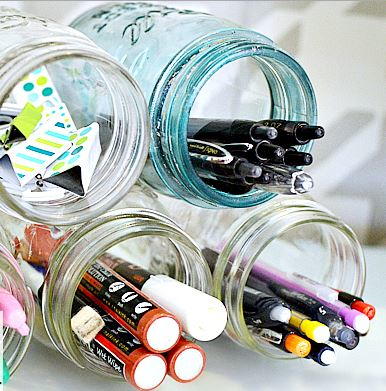 These organizational tips made teaching kids to clean up after themselves seem like fun! With these kids' craft ideas, you get learn how to get organized in the most stylish way.

This collection of DIY organization ideas is perfect for your little ones to try. There are Mason jar crafts, recycled crafts, and other popular kids' crafts that can be used as trendy new ways to organize their things. There are even locker ideas for the older kids who need fun new ways to organize the inside of their lockers.
Seasonal Kids' Craft Ideas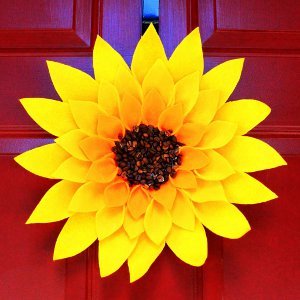 You've been crafting for the season all year round! Floral-inspired ideas were your favorite spring crafts for kids, and you loved everything colorful when it came to summer craft ideas. Fall and winter crafts for kids were just as popular, especially when it came to making seasonal DIY lanterns and bowls. Save these seasonal kids' craft ideas to use for next year!

Seasonal Kids' Crafts are tons of fun, whether they're winter crafts, summer crafts, spring crafts or fall crafts. You will have a blast with these easy kids' crafts no matter what season it is.
Other Easy Kids' Crafts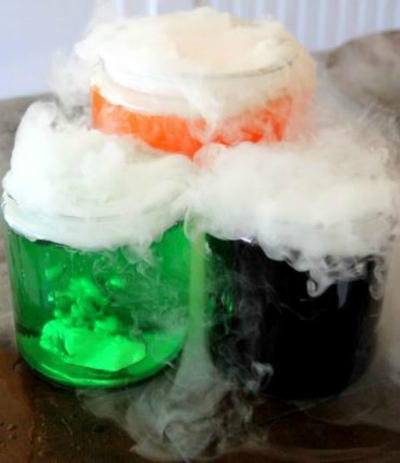 Last but not least, these easy kids' crafts were your favorite decorative and edible crafts of the year. Every single one of these projects is perfect for bringing the family closer together for some quality crafting time!

Art projects for children are wonderful ways to stretch young kids' imaginations and to encourage creativity. Here, you'll find kids' arts and crafts for all ages and all levels. These craft ideas for kids are the cream of the crop.
Which of these 2013 favorites would you like to try? Comment below!
Free projects, giveaways, exclusive partner offers, and more straight to your inbox!
Tags / Related Topics
Your Recently Viewed Projects
Images from other crafters


Something worth saving?
SAVE your favorite projects
ADD personal reminder notes
QUICKLY reference your projects