19 Thanksgiving Crafts for Kids
By:
Jaclyn Holtzman, Editor, AllFreeKidsCrafts.com
19 Thanksgiving Crafts for Kids free eBook
Give thanks for these amazing Thanksgiving craft ideas!

It's important to start showing your gratitude as soon as possible, and though you may not have the words to do so, you can express yourself through crafts. From the littlest settlers to the biggest feasters, kids of all ages will love this collection of 19 Thanksgiving Crafts for Kids. These projects are great vehicles for learning about the holiday of Thanksgiving, why we celebrate it, and what it means to be thankful. You'll no doubt be thankful for this guide to gratitude when you see how much fun, knowledge, and activity are contained in one little book. Keep busy for the entire autumn season with these kids' Thanksgiving crafts you don't want to miss.

The best way to learn is to have fun while doing so, and there's no denying that the craft projects inside this book are a blast. Craft turkeys and find out why this has become the symbol of the holiday, build the Nina, Pinta and Santa Maria and learn about their significance, and create Pilgrims and Indians to bring their story alive in your own home. You'll find that all of the Thanksgiving lessons and traditions are complete guide to understanding and enjoying the holiday.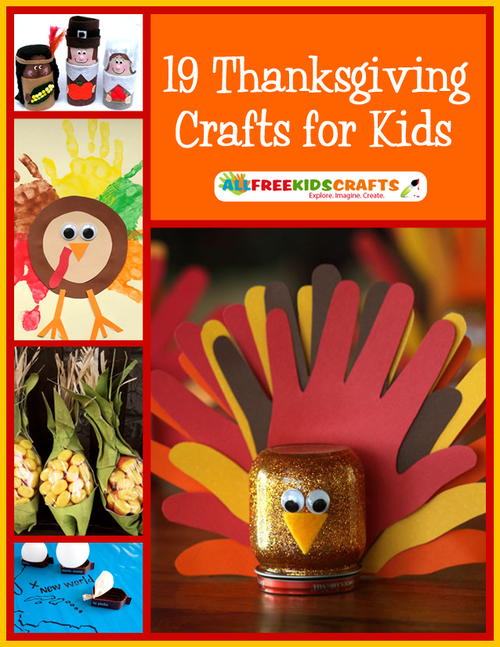 Aside from the amazing educational benefit to making your way through 19 Thanksgiving Crafts for Kids, by the time you've made it to the last page, your home will be festively fantastic. These crafts may be easy enough for toddlers, but they don't look it. You will be more than proud to display each and every one of these crafts throughout your house. In fact, you won't have to worry about spending a dollar on Thanksgiving decorations this year because they'll be ready to go when you're finished creating.

Be thankful for creativity, imagination, and your crafting talent this November when you realize how artistic you truly are. Between the turkey crafts, boat projects, and corn creations, you'll amaze yourself with what you can do. Before you know it, you'll have recreated the first Thanksgiving with just a few craft supplies, a bit of artistic ability, and a smile. You'll be more than ready to feast on mashed potatoes and cranberries after working up an appetite putting together these awesome decorations.


You'll also be thankful for recycling this fall since it will save you tons of money. Instead of spending your allowance on decorations, use recycled materials for crafting. These crafts may be made from "trash," but they look like nothing less than treasure.

The best part about these Thanksgiving crafts for kids, though, is that they are the perfect excuse for spending time as a family. Every single member of the family will find his perfect Thanksgiving craft in this collection. If you all pick your favorite, and then craft each one together, you'll get in some quality time together, laughing, creating, and bonding. This free eBook is more than just a gathering of great kids' crafts, it's a guide to getting the most out of the Thanksgiving holiday by learning, saying thanks, and spending time with those you love.
19 Thanksgiving Crafts for Kids
Table of Contents
Turkey Lovers,
You are certainly going to be thankful for this collection of Thanksgiving crafts. They'll keep you busy, happy, and reflective throughout the autumn months. Each projects provides an opportunity to discuss the meaning of the holiday and for what you're grateful. Not only will your family's tummies be full of turkey, but their minds will be full of knowledge thanks to this collection.

Stuff yourself silly with creativity as you turn seemingly unrelated materials into something great. When you're finished with this guide of gratitude, your home will be amply filled with turkeys, corn, and precious pilgrims.

Welcome fall with appropriately-colored crafts that turn your home into a rustic abode. You'll love the family time that inherently accompanies these fun crafts. From the littlest crafters to the oldest members of the family, everyone will want to get in on the artsy Thanksgiving fun.

Homemade decorations allow you to save up for an enormous turkey, making your Thanksgiving the best ever. Don't worry about reaching into piggy bank for these projects because they're all thrifty.

So go ahead and invite guests over because you'll be proud to show off your Thanksgiving decor.

You can find even more craft projects, games, and activity ideas at www.AllFreeKidsCrafts.com.

Our eBooks, like all our kids' craft projects, are absolutely FREE to members of our kids' crafts community. Please feel free to share with family and friends and ask them to sign up at our website for our free e-mail newsletter.

Happy crafting!
The Editors of AllFreeKidsCrafts.com



Download your free copy of 19 Thanksgiving Crafts for Kids!
Turkey Crafts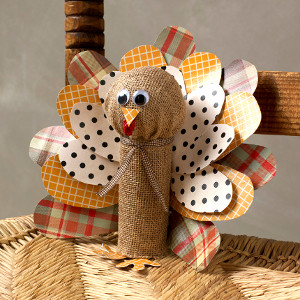 Gobble, gobble up these adorable turkey crafts. These animals are so fun to craft because there are so many materials that can serve as their feathers, beak, and wattle. Crafters are constantly creating new ideas for making these birds even cuter, and we've collected the best of those ideas and put them into our collection of 19 Thanksgiving Crafts for Kids. Whether your bird is made out of burlap, paint, or paper, he's sure to look cute enough to win first prize. Get creative with your fowl's feathers to make your turkey craft unique and fun. The Burlap Toilet Roll Turkey is especially noteworthy because of its perfectly rustic appearance. It fits right in with the feel of autumn, making it one of the best fall crafts for kids along with being a perfect Thanksgiving go to. Though it looks mantel-worthy, this gobbler is easy enough for a first grader to make, which means that, in the right hands, this adorable guy can be completed in no time. Who cares if you don't start crafting until November 24th? With the projects in this amazing free eBook, you can create a Thanksgiving wonderland in hours. Of course, these crafts are such eye-grabbers that you'll want to make them as early as possible. That way, more admirers will get to see your fantastic work. You may even be asked to help turkey-ify someone else's home, and with 19 Thanksgiving Crafts for Kids' turkey crafts tutorials in your hands, you'll have no problem doing so.
Thanksgiving Crafts for Toddlers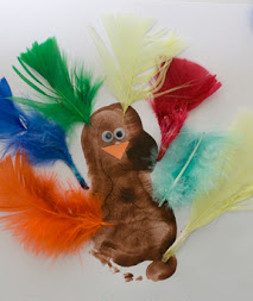 AllFreeKidsCrafts wants every family member involved in Thanksgiving crafting this year, and that means even the tiniest tots. This thrifty Thanksgiving handbook has tons of projects that baby Pilgrims and Indians can help with. Handprint and footprint projects are among the best of the bunch. What's more fun than painting your foot and turning it into a turkey? Nothing; that's what! Parents will be thrilled to have a way to preserve your tiny prints, and you'll have a blast creating your one-of-a-kind turkey. Thanksgiving crafts for toddlers are wonderful ways to keep the youngest celebrators busy during the day-long festivities. 12-hour holidays can be a bit tiresome, but when you have 19 Thanksgiving Crafts for Kids by your side, you'll be begging for the holiday to go on. Mom won't have to worry about you bothering her as she prepares for the holiday because you'll be busy preparing decorations yourself. You won't have time to say, "I'm bored." There's always another Thanksgiving craft to be made!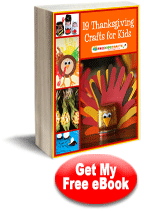 Download your free copy of 19 Thanksgiving Crafts for Kids!
Preschool Thanksgiving Crafts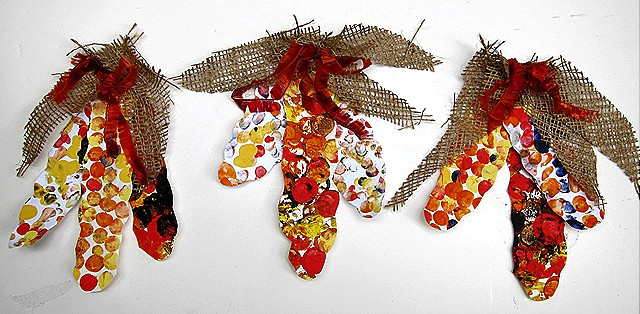 Kiddie colonists, it's time to get crafting, and with the plentiful preschool Thanksgiving crafts in this collection, you'll have only the best to choose from. Your little fingers will come in handy for creating festive corn on the cob. The adorable Thumbprint Thanksgiving Indian Corn craft makes for nifty, native decorations that warm your home. Attach them on the back of each guest's chair as a place marker, or hang them from the mantel to show your thanks for the delicious food. However you display your New World wonders, you'll be festively ready to give thanks. Don't stop with the corn, though. After you see the positive reaction you get from your artsy endeavor, you'll want to make all of the preschool Thanksgiving crafts you can. We've got you covered from turkey crafts to games to Pilgrim projects. Finish fall with a bang by making this Thanksgiving celebration the best ever. Involve the entire family in the Thanksgiving crafting fun to make memories that will last a lifetime.
Educational Thanksgiving Crafts for Kids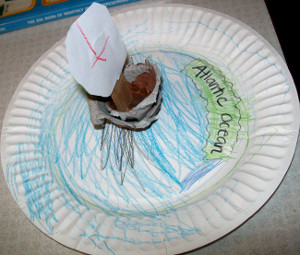 Thanksgiving is about quality family time, good food, rustic crafts, and delicious aromas, but you can't forget about the, arguably, most important aspect: education. It is essential that during the celebration, you talk about the history of the holiday and the lessons that follow. Learn about the Pilgrims, Indians, Christopher Columbus, and why we give thanks on this special day. Learning can be fun, so don't start complaining about having to learn on a holiday. When you use Thanksgiving crafts as a teaching vehicle, you won't even realize that you're learning. Make the inexpensive and simple Journey of the Mayflower craft, and learning about Thanksgiving will be smooth sailing. All you need for this educational Thanksgiving craft are items that you already have around the house, which means that you can start learning at a moment's notice. These learning crafts also double as fantastic fall decor, so set up your boats for some eye-catching fun.



Download your free copy of 19 Thanksgiving Crafts for Kids!
If you are having trouble downloading our free eBooks, visit our FAQ page here: How to Download Our eBooks.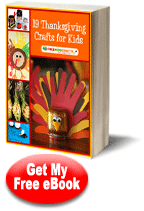 The 19 Thanksgiving Crafts for Kids eBook is absolutely free! If you decide that you love the eBook and would like more free kids' craft projects, don't forget to sign up for our free e-mail newsletter "Crafty Kid Creations" to become part of our ever-growing kids' craft community. By subscribing to the newsletter, you will receive:
Weekly e-mails full of free kids' craft projects and inspiration, learning activities, collection pages, and more.
FREE new tutorials and projects made available to you throughout the year.
Access to our free project library full of hundreds of free kids' craft projects and ideas.
The opportunity to share ideas and help others in the kids' craft community.

We hope that 19 Thanksgiving Crafts for Kids has gotten you ready for a season of gratitude, craftiness, and family time. Use this collection of turkey crafts, Thanksgiving crafts for toddlers, preschool Thanksgiving crafts, and educational Thanksgiving crafts for Kids to make this Thanksgiving one for the books. Take a trip on the mayflower, eat time-appropriate food, learn about the Pilgrims, and gobble up all the turkey crafts you can to make this November the best ever. You can never have enough thrifty Thanksgiving fun in your home, so don't stop crafting until you have more turkeys, boats, and corn than you know what to do with. Fall festivities are wonderful excuses for spending time with family and making otherwise ordinary days special. Find the perfect crafts and activities for kids in this generous collection of crafts for a thankful Thanksgiving.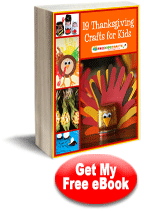 Download your free copy of 19 Thanksgiving Crafts for Kids!
Free projects, giveaways, exclusive partner offers, and more straight to your inbox!
Tags / Related Topics
Your Recently Viewed Projects
Images from other crafters


Something worth saving?
SAVE your favorite projects
ADD personal reminder notes
QUICKLY reference your projects