14 Easy Summer Craft Activities for Kids Free eBook
By: Jaclyn Holtzman, Editor, AllFreeKidsCrafts.com
Find the best outdoor activities to do with kids and crafts for children to keep cool in the 14 Easy Summer Craft Activities for Kids free eBook

School's out for summer! There's a reason there's a song about it. It's a wonderful thing to have a break from school for a few months; to refresh your brain, let it relax, and regroup for the next grade. Two glorious months of hot days, refreshing ocean water, and fresh fruit. It sounds extremely nice, but after a few weeks, the "I'm bored"s start filling the air and you've exhausted the local water park. Instead of returning to television, video games, and cell phones, dig in to 14 Easy Summer Craft Activities for Kids and find the perfect projects for you. Crafting is a wonderful way to interact with the whole family at once. When faces are buried in portable technology and eyes are glazed over from hours of television, even if you're sitting in the same room together, you're not truly spending time as a family. Change that this summer with crafts that will get you moving, tasting, painting, and giggling. The wonderful thing about this list of crafts is that it's so diverse. There are crafts for every age, every skill level, and ever interest. If you love to soak up the sun during the summer months, there are crafts in 14 Easy Summer Craft Activities for Kids that bring you outside. If you've had enough rays or you just want to cool off for a bit in the air conditioning, there are plenty of projects that bring the sun to you.

With the help of 14 Easy Summer Craft Activities for Kids, summer will once again be all that you imagined. No more staring at screens, sitting in silence, and making permanent indentations in your couch. These amazing crafts for kids will get you outside, interacting, developing your imagination, and putting your creativity to work. Sure, it's summer, but that doesn't mean you should be brain dead for two months! Use your brain to have fun and create art projects that you'll be proud to show off.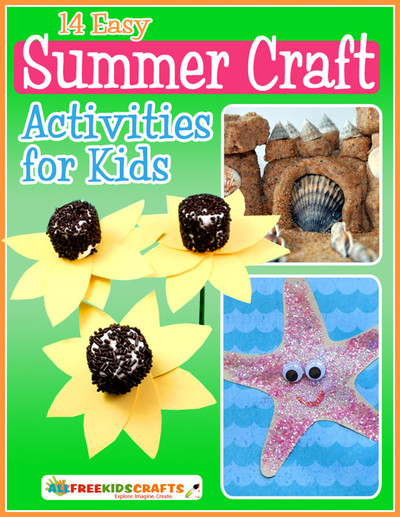 14 Easy Summer Craft Activities for Kids
Table of Contents
Hello Crafty Families,
The sun is shining, the flowers are blooming, and school is out. Whether your kiddos are going to day camp or not, chances are you'll have a lot more time with them, which in theory is a marvelous thing. In actuality, though, you may quickly run out of ideas to keep them busy and then you'll have a full summer ahead of you with nothing to do and hyper, bored children. AllFreeKidsCrafts will not let that nightmare become reality. We've gathered the absolute best craft activities to make your summer the most fun one yet, and it won't just be fun for the kids. You, too, will look back on this summer with a broad smile and a sense of accomplishment. Bond with your children over crafts that make you laugh, smile, and look on with pride.
Supplement your trips to the beach, adventures at the waterpark, and visits to museums with summer craft activities that the whole family can make together. Young or old, boy or girl, all kids will love making these hand-picked projects that scream summer. Some of these wonderful crafts bring you outside into the gorgeous sun and others bring the sun to you. No matter which of these crafts you decide to make, your summer is sure to be bright, vibrant, and creative.

Happy Crafting,
Editors of AllFreeKidsCrafts
If you enjoyed this eBook, you won't want to miss any of our other downloadable kids' craft collections. You can browse our entire library of free eBooks here.



Download your free copy of 14 Easy Summer Craft Activities for Kids!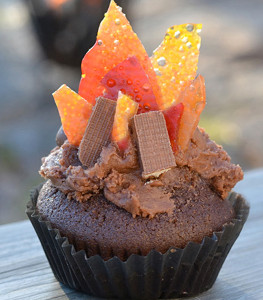 Running around in the sun all day makes for a very hungry kiddo. While you can munch on the snacks that you eat all year long, it sure would be a lot more fun for you and your tummy if you made edible crafts for kids. These aren't just any edible crafts for kids, though; they're summer-themed, reflecting your favorite activities of the summer months. Imagine eating campfires, sunflowers, and sand castles! Well, you don't even have to imagine. With the help of the edible crafts for kids in 14 Easy Summer Craft Activities for Kids, you can make those dreams a reality. Don't worry; the campfire won't burn your mouth, the sunflowers won't taste like grass, and eating sand castles doesn't mean that your mouth will be as dry as a desert. On the contrary, the campfire is made from crushed candy and chocolate cupcakes (yum!), the flowers are made from marshmallows and sprinkles (double yum!), and the sand castles are made from caramel Rice Krispie treats (oh yes!). You never thought that your favorite summer items would taste good, but think again. With the help of edible crafts for kids, summer's symbols are delicious.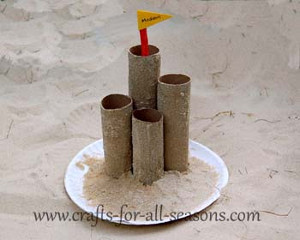 One of the best parts of the summer is going to the beach, playing in the water, building sandcastles in the sand, and soaking up the sun. When the day is over, though, as much as you have memories and maybe a few photographs, you don't get to bring the ocean or your perfectly modeled castle home with you. Save yourself the heartbreak by bringing the beach home with you through beach crafts for kids. Craft sandcastles at home that will withstand the test of time, and get to know the creatures that live under the deep blue sea. Sand dollars and starfish will come visit you at home when you craft with 14 Easy Summer Craft Activities for Kids. You don't need to go to a museum to get up close and personal with the animals of the ocean. You'll be learning about different species as you craft without even realizing that you're learning. If you want to remember a specific trip to the beach, bring your craft with you, and add real sand from that special day. Beach crafts for kids are really wonderful ways to see the differences in texture since there are so many different materials on the beach. Sand is small and grainy, while water is soft and liquid. Craft a starfish with sandpaper to feel the rough texture of the pretty creature. There are so many different things to explore when you make beach crafts for kids with the free 14 Easy Summer Craft Activities for Kids eBook.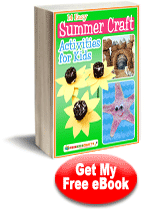 Download your free copy of 14 Easy Summer Craft Activities for Kids!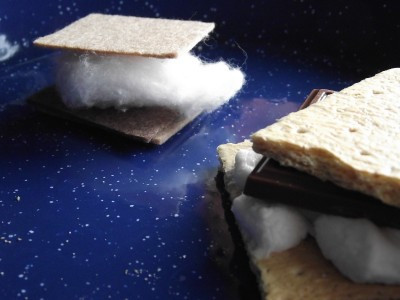 Summer is the season for campfires, s'mores, and camping trips, but sometimes you're too young to partake in such dangerous adventures. Other times, the weather cancels your dauntless plans. But, fear not, you will still earn your badges by camping with the 14 Easy Summer Craft Activities for Kids eBook. Take your crafted campfire in the backyard or stay right in your family room to enjoy ghost stories, songs, and skits. You don't need to be in the great outdoors to experience what it's like to be a camper. All you need is a copy of 14 Easy Summer Craft Activities for Kids and some inexpensive materials to have the night of your life. Nothing is better than smooth, melted chocolate mixed with a roasted, gooey marshmallow, all sandwiched between two crunchy graham crackers as you enjoy crafting with your friends. If you take a look around your room while you're having a blast at your campfire, you may see envy in your dolls' eyes. Let them join in on the fun by making s'mores, trees, and even a mini campfire to entertain them on their summer nights. These craft campfires have all the fun that normal campfires have minus the danger of the fire. Your marshmallows won't burn without the heat of the fire, which means that along with your amazing camper evening, you'll have the most perfect s'mores ever made around a campfire. Enjoy these faux campfires with friends, your Brownies troop, or your Boy Scout troop and learn survival skills between all the giggles and snacks.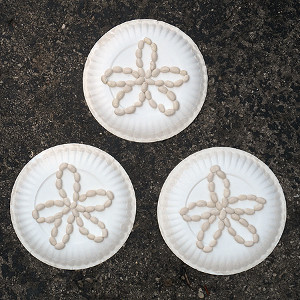 Even though school is over for the summer, you shouldn't go brain dead. However, you should give your mind a bit of a rest with really easy crafts for kids in summer. These crafts, found in 14 Easy Summer Craft Activities for Kids, are great for kids of all ages. There are crafts that toddlers can do, but that teens will still enjoy. While all of the crafts in this free eBook are easy, there are some that you can simply enjoy without having to break a sweat at all. After all, you sweat enough during the summer; crafting should be a nice break! There are really easy crafts for kids in this eBook from all different categories. Sometimes, you'll have to put in very little effort to make delicious treats, and other times, you can casually craft for the beach. There are also really easy crafts for kids that can take you on a camping journey, and still more projects that are simple as can be as they bring the sunshine inside your home. No matter what you want your summer to look like, you will find the perfect crafts for you inside the free 14 Easy Summer Craft Activities for Kids eBook.

Download your free copy of 14 Easy Summer Craft Activities for Kids!
If you are having trouble downloading our free eBooks, visit our FAQ page here: How to Download Our eBooks.
The 14 Easy Summer Craft Activities for Kids eBook is absolutely free! If you decide that you love the eBook and would like more free kids' craft projects, don't forget to sign up for our free e-mail newsletter "Crafty Kid Creations" to become part of our ever-growing kids' craft community. By subscribing to the newsletter, you will receive:
Weekly e-mails full of free kids' craft projects and inspiration, learning activities, collection pages, and more.
FREE new tutorials and projects made available to you throughout the year.
Access to our free project library full of hundreds of free kids' craft projects and ideas.
The opportunity to share ideas and help others in the kids' craft community.

We hope that 14 Easy Summer Craft Activities for Kids has gotten you in the mood for sunshine, fresh grass, cool breezes and crafts! Use this collection of edible crafts for kids, beach crafts for kids, camping crafts for kids, really easy crafts for kids, and more to make this summer vacation the best yet. These kids' crafts for summer, and the memories made while creating them, will be cherished by your little boys and girls for years to come!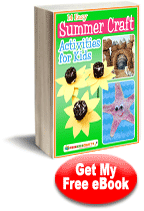 Download your free copy of 14 Easy Summer Craft Activities for Kids!
Tags / Related Topics
Your Recently Viewed Projects
Images from other crafters

Love these projects? Get MORE delivered to your Inbox – FREE Click Here!