Cheap and Easy Crafts for Kids: 9 Recycled Crafts
Bonus: Get our newsletter & special offers for free. We will not share or sell your email address. View our Privacy Policy

Understanding Autism + Fun Activities for Kids with Autism
Learn about Autism and learning with tons of fun sensory crafts, fine motor skills activities, and games!
By:
Elizabeth Jedrasek, Editor, AllFreeKidsCrafts.com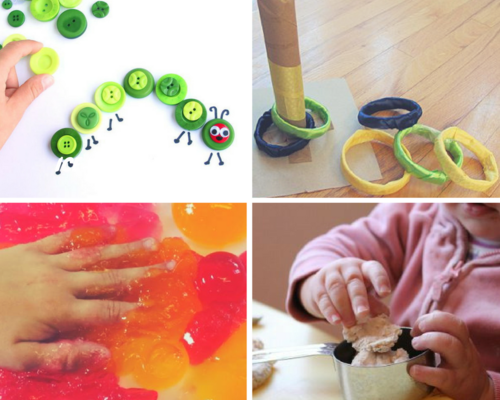 Autism is a brain disorder that affects a child's ability to communicate, form relationships with others, and respond to their environment. While children on the spectrum may have different needs when it comes to learning and developing, they are just like any other child.

They want to play and have fun because that's what kids do best! Keep reading our guide to Understanding Autism + Fun Activities for Kids with Autism for some great ideas that will not only engage your child, but strengthen their ability to communicate and learn. 

You'll learn about the benefits of crafting with kids and how crafting activities appeal to all the learning styles, which is helpful when developing new skills including communication skills, social skills, and self-help.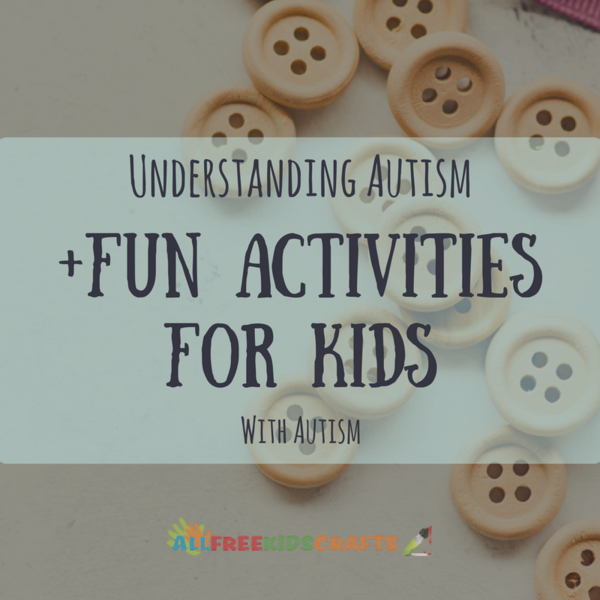 What is Autism Spectrum Disorder?
Autism Spectrum Disorder refers to a range of symptoms typified by difficulties with social interaction, verbal and nonverbal communication, and repetitive behaviors. Children with Autism are known to possess unique strengths and weaknesses as well. A child on the spectrum will usually show signs between the ages of 2 and 3 years old, and we now know that there are several different types of Autism caused by a variety of factors. People on the high-functioning end of the Autism spectrum experience mild symptoms, while people with more severe Autism will face challenges that interfere with their everyday life. Autism Spectrum Disorder seeks to reflect the wide-ranging difficulties and strengths any person with Autism may experience.
Kids with Autism and Learning
Kids with Autism will typically have one preferred style of learning, while kids without Autism will use combinations of learning categories throughout their childhood and beyond. However, determining any child's natural learning style can help improve their overall performance. 

Learning Categories
Visual Learning - This learning style depends on a child's sense of sight. Kids who rely on this learning category learn best from reading books, videos, and charts. They benefit greatly from the use of visual aids and color-coding, which help organize information in a way that's easy for them to understand.
Auditory Learning - Kids who fall under this category rely on their sense of sound. They learn best through listening and speaking activities such as role-playing and repetition. These children are adept at obtaining information auditorily. 
Tactile Learning - "Tactile" refers to a child's sense of touch. Children who are tactile learners benefit from hands-on projects such as building activities, games, and moving about. Seeing and learning helps tactile learners envision abstract concepts in a way they understand. 
6 Important Autism Accommodations in the Classroom
Because Autism Spectrum Disorder encompasses a wide range of learning disabilities, classrooms should be ready to help individual students work around their specific challenges. With patience and the right accommodations in the classroom, it is possible for teachers to assist kids with Autism in overcoming certain learning obstacles and performing well in a regular classroom setting. 
Daily Schedules - Transitioning to new tasks is a common difficulty for children throughout the spectrum. The use of detailed and organized daily schedules will help autistic students transition through the school day from each new activity. At the very least, a broad outline of the proposed activities for the day should be provided. Picture schedules can also be helpful for establishing routines because they offer a visual representation of what they will be doing after one activity is completed. 
Varying Teaching Methods - Teachers should provide a variety of media options that accommodate every learning style from reading and listening activities to more hands-on tasks. 
Visual Communication Systems - All kids on the spectrum have difficulty with communication. Therefore, regardless of verbal ability, having a communication system using pictures and symbols is beneficial for students with Autism. 
Extra time - Students with Autism may take longer to complete quizzes and tests than their peers, or even getting from one classroom to another. So, extra time should be allotted for students to complete projects and other learning activities. Autistic students can also be allowed to leave class a few minutes early to avoid the noisy and crowded passing periods. 
Fidgets - When intense concentration is needed, the classroom should be equipped with sensory tools such as foot rollers, stress balls, clay, and chair bands. Fidgets are especially helpful for students who exhibit repetitive behaviors, but should not be used all the time lest they lose their effectiveness. 
Quiet Space - Classrooms can be loud and noisy, which is why it's very important for children with Autism to have a quiet area to go to when they feel overwhelmed. Luckily, having a quiet space can prevent sensory overload and allow autistic students to regroup and calm down. Students with Autism may not be able to actively engage with an activity for as long as other students, so the quiet area can also be used for periodic breaks throughout the day!
Autism Myths and Facts

Sensory Activities for Kids with Autism
Many children with Autism have Sensory Processing Disorder, a condition that causes difficulties with the five senses: sight, hearing, taste, touch, and smell. The brain of someone with SPD processes information from the senses in a unique way that causes discomfort and confusion. Multisensory crafts allow kids with Autism to explore their senses and to exert some control over a variety of sensory experiences. However, some children with Autism may react positively to one activity, while another child may find the activity unenjoyable. You can experiment with different sensory activities to discover ones your child likes and dislikes!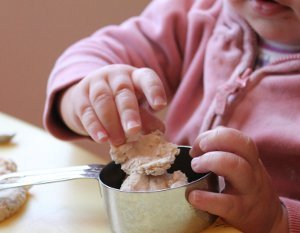 Fine Motor Skills Activities
The development of fine motor skills is essential in order to navigate the physical world. Fine motor skills are demonstrated in tasks controlled by the central nervous system including coordination of the hand, fingers, and eyes. In essence, fine motor skills are the coordination of smaller muscles that perform small movements such as writing or tying your shoelaces. Kids with autism may have difficulties with the development of fine motor skills such as getting dressed, drawing, speech, and language.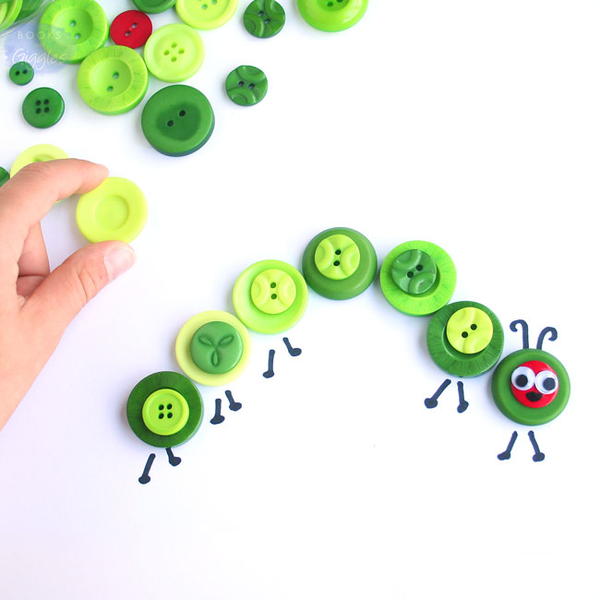 Games for Kids with Autism
Most importantly, autistic children want to have fun, which is why it's always a great idea to play games that both pique their interest and encourage active participation. Whether you are working on developing social skills or communication abilities, playing games is a great way to connect and have fun with an autistic child!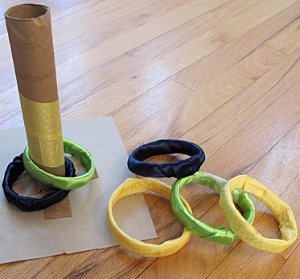 The Benefits of Hands-on Activities and Crafts
It's no secret that arts and crafts are beneficial for kids of all ages! Craft activities help with the development of fine motor skills, problem-solving, and overall learning. Kids with Autism Spectrum Disorder benefit especially from hands-on projects by improving their attention span, self-expression, and ability to cope with stress and anxiety. Craft activities are incredibly effective teaching tools because they can be manipulated to fit each child's learning style and interests. Hands-on projects take a multisensory approach to learning, meaning they combine aspects of two or more senses into one activity and appeal to each child's preferred learning style. Crafting activities can be used to aid the development of certain skills, help them respond to their environment, and form a bond with the people around them!

In an article on The Benefits of Art for Kids, Jean Van't Hul from The Artful Parent says, "Art is an equalizer, helping create a common ground for children who don't know each other and who may or may not be interested in the same things. It can help people of all ages, races, abilities, and even languages engage in a shared (and generally mutually loved) activity." 

Most importantly, art for kids enourages creativity, a valubale skill that will contribute to a child's success as they continue to grow and develop their interests! 
What are your experiences with kids with Autism? Share your thoughts below!
Free projects, giveaways, exclusive partner offers, and more straight to your inbox!
Tags / Related Topics
Your Recently Viewed Projects
Images from other crafters


Something worth saving?
SAVE your favorite projects
ADD personal reminder notes
QUICKLY reference your projects